IN-TELLIGENT PROVIDES THE ONE-ON-ONE ENGAGEMENT YOU WANT FROM THE SOCIAL MEDIA PAGES YOU FOLLOW
Ever-changing social media platforms are making it more difficult for you to see the messages from the groups that you care about. In-telligent transforms the connection that you have with your communities by bringing their messages directly to your smartphone with pictures, videos and hyperlinks ensuring that you never miss an important message. Additionally, through the Contact feature, you can interact privately one-on-one. We know that many fans are uncomfortable commenting in a public forum, this more personal nature of interacting provides you a way to comfortably communicate without worrying about social media's commentary.
Also, the auto-translate feature allows you to translate the messages that you receive instantly into any language, regardless of the language used to create it. This ensures you understand the message and even encourages you to share it with others who may speak another language.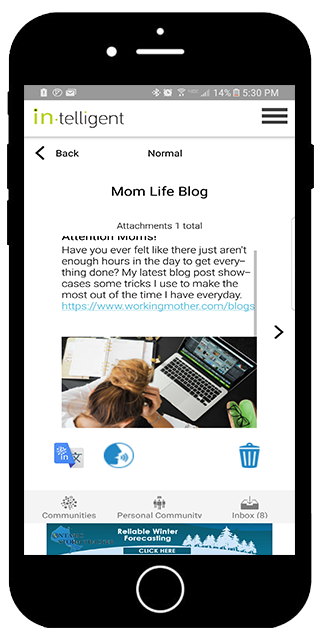 "I just wanted to drop a quick note and let you know that I am loving this! It's like it's made just for me! Thanks so much! Always an inspiration! "
"Loving the content! I've been married 3 years, but am a new mom, and also a "stay at home" mom now. Your messages are the perfect length that I can sit down and have a moment to myself then I can get back to work around the house! I'm trying to make my time "working" efficient, so that I can spend more time with my baby - my main reason for joining this." Always an inspiration! "
"Every time I visited your Facebook page, I saw all of these posts that I had missed, and I realized how little of your content Facebook was showing me. I love that you have an app now. Your posts come right to my phone, so I know I'm not missing anything." Always an inspiration! "
"I really love getting new posts from various bloggers that I follow to my phone! I never have time to look through everything on Facebook to find things they've posted recently, but with their messages coming right to my phone on In-telligent, it's super convenient to read them whenever I can finally sit down for a few minutes of quiet time. It's great, I get to follow my favorite bloggers without wasting time on social media. " Always an inspiration! "