WEATHER DONE THE IN-TELLIGENT WAY
In-telligent has created an alliance with various weather services, local governments and the National Oceanic and Atmospheric Agency (NOAA) to be able to deliver the most comprehensive severe weather alerts possible. These alerts are sent to anyone in the danger zone with an audible alert that only the National Weather Service can emulate. For the first time, for no cost, you can ensure that you and your loved ones are kept as safe as possible during all incidents of severe weather, including lightning strikes!
Unlike dedicated weather apps, alerts are received even if cell towers are down. A received alert means:
Just by downloading In-telligent, you are automatically subscribed to this community. You will receive push notification when:
In-telligent provides a built-in lightning detector called LightningAware that will alert you when you are located within 5 mi (8 km) of a ground-reaching lightning strike.
Additionally, search the following keywords under the Communities tab to receive other critical weather-related information: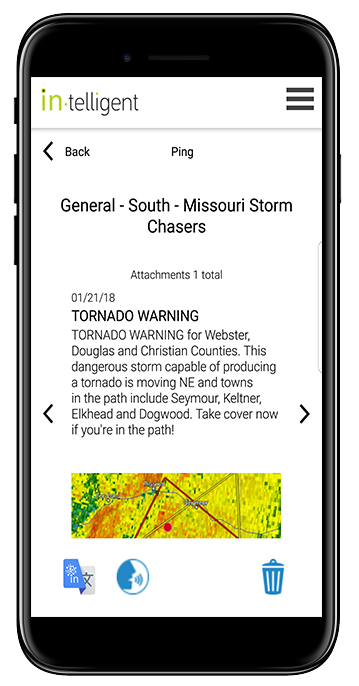 WEATHERMEN CAN BE WRONG. IN-TELLIGENT IS ALWAYS RIGHT.

Please fill out the email field below and choose your state - after doing so you will be redirected to the app / play store. Download In-telligent and sign in to your account.
Weather Alert Service Partner
In-telligent also brings together the most comprehensive team of professional weather forecasters and reporting agencies across North America. Sign up to receive alerts from these groups on the In-telligent app for areas where you live, work, or have loved ones: