DOWNLOADING AND USING THE APP IS EASY!
Search for In-telligent in the App or Google Play Store, or use one of the download links below. Complete the simple registration process to create an account!
Watch the video for a quick tutorial on using In-telligent.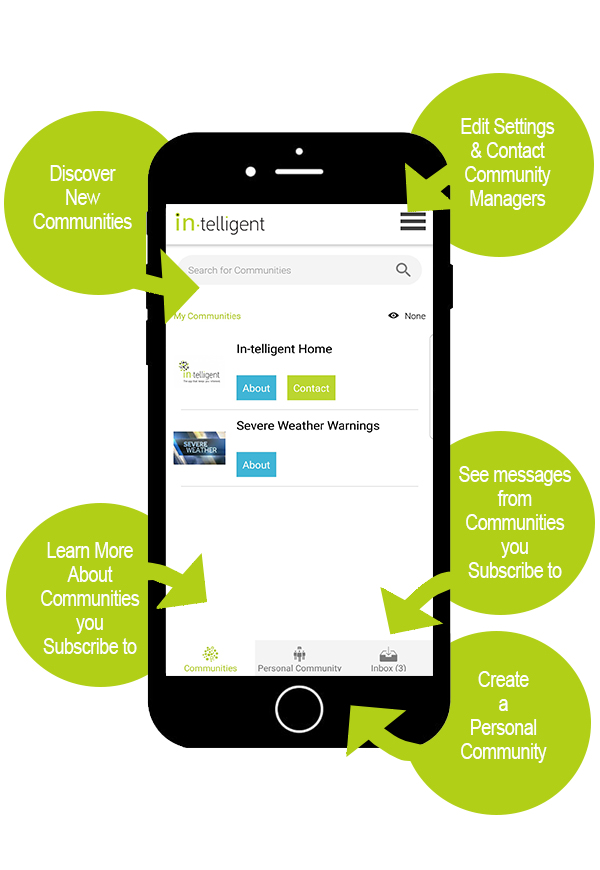 about in-intelligent

technology

business partners

privacy & security

known bugs
DO I HAVE TO BE PHYSICALLY IN AN IN-TELLIGENT COMMUNITY TO USE THIS APP?
No, the app can be used by anyone who wants to stay informed about a specific community. By downloading the In-telligent app and selecting the community, you'll immediately gain access to alerts, announcements, news, traffic and weather, along with other information from that community.
IS THERE A COST TO DOWNLOAD THE APP?
No, the In-telligent app is free to everyone. We want you and anyone interested in a community to stay informed. Putting a monetary requirement around sharing this information goes against creating a safer and more informed community.
I AM OFTEN AUTO-SUBSCRIBED TO COMMUNITIES THAT ARE NOT OF INTEREST TO ME, WHAT CAN I DO ABOUT THIS?
Simply go to the 'Communities' tab, select "About" on the community you wish to disable the auto-subscription feature for, and select "Disable Auto-Subscription".
I'M HAVING ISSUES FINDING A SPECIFIC COMMUNITY.
1) Launch the App on your Apple or Android device
2) Click the Communities Tab on the bottom left side of the App
3) In the Search Bar (at the top of the page), type in the community name.
By the time that you get the first few words in the name typed in, the community should show up. Simply click, "Subscribe" and you are all good to go.
WILL SOMEONE SEND ME CRAZY MESSAGES AT 2:00 AM?
In-telligent is professional network of people and businesses and you're in control of who you subscribe to. If a community you subscribe to is sending messages that you don't like, you can simply unsubscribe from them. Our business partners benefit from you subscribing to them, so it's their best interest to use their good judgement when sending messages to you to keep you from unsubscribing.
HOW DO YOUR SEVERE WEATHER ALERTS DIFFER FROM EVERYONE ELSES?
You will receive push notifications when you're located directly in an affected area at the time a severe weather alert is issued, when entering a threatened area during an active alert, or when lightening has struck the ground within 5 miles of your location. You won't receive messages for weather that's just in your general vicinity. Received messages mean a threat is real, it's imminent, it's going to affect you. You're in the danger zone and need to take action. Alerts are received even if cell towers are down!
WHAT ARE THE TECHNOLOGY REQUIREMENTS OF THE APP?
The app is available on both Android and iOS platforms through the Play Store and App Store. As such, almost everyone can quickly and easily become In-telligent.
WILL IT USE UP MY BATTERY?
We have to utilize a small amount of battery to run the app, obviously. We use less power than your Phone application, and just about any other application on your mobile device. You should not have a noticeable reduction in battery life after downloading In-telligent.
WHAT ABOUT MY DEVICE'S MEMORY?
We reside in the memory of your phone as an app that is constantly working in the background. We have worked with Apple and Google to get that memory usage as small as possible so that it doesn't affect any other application running on your device.
WILL ADS BE PUSHED TO ME?
We don't push ads. Our only revenue source is the small banner ads that run along the bottom of the app, which are not targeted to any one person or group.
WHEN I GO TO COMPLETE THE DOWNLOAD OF IN-TELLIGENT FROM THE APP/PLAY STORE, I GET A NOTIFICATION THAT I DO NOT HAVE THE CORRECT OPERATING SYSTEM.
The app runs on Apple 9.0+ or Android 5.0+. In-telligent might look simple in design, but it is an incredibly sophisticated program that has been optimized to minimize battery and memory use. They are currently looking for a solution to allow users with older devices to work on the platform.
Unfortunately, Apple and Google are very strict and like most newer apps on the market, In- telligent needs the new operating system features to work properly. They will keep trying to figure this out, but in the meantime, if possible, please update your operating system to one that is compatible.
IS THIS APP JUST FOR MOBILE DEVICES?
Yes In-telligent currently operates on phones and tablets only. We are exploring the possibility of expanding to desktops/laptops in the future.
I RECEIVED AN ALERT, BUT WHEN I OPEN THE MESSAGE THE APP FORCE CLOSES EVERY TIME.
The app may be force closing because your cache is full. Make sure to close apps that are not in use. A benefit of In-telligent is that even when you close In-telligent, it still works in the background so you will always be connected and informed.
I HAVEN'T RECEIVED ANY ALERTS SINCE I DOWNLOADED THE APP. IS SOMETHING WRONG?
You will only receive alerts from one of our communities when they decide to send something. To make sure you are subscribed to the communities you care about, click the Communities tab to review which communities you're Subscribed to. If you don't see the communities you want, search for them with the Search bar and hit Subscribe.
ONE OF YOUR ALERTS MADE MY PHONE MAKE NOISE. HOW DO I GET IT TO STOP?
During an urgent or emergency event, community manager can choose to send an alert that will override your silent setting to ensure you are made aware. This is rare and only reserved for life-threatening events, but when it happens, just simply launch the App and the alert will stop.
THE APP WILL OCCASIONALLY CRASH. WHAT CAN I DO?
Unfortunately, all apps will occasionally crash. However, to minimize crashes, please make sure that you have the most up-to-date version of the App installed. The App is constantly being enhanced with features and bug-fixes, and updating it is the only way for them to work.
I RECEIVED A LIGHTNING ALERT. WHAT DOES THIS MEAN?
The App has a built-in lightning detector and will alert you if you are within 5 miles of a ground-reaching lightning strike. You are asked when you first create your account if you would like to enable/disable this. If you enabled this feature and receive an alert, just launch the App to stop the noise. To disable this feature, go to Menu > Settings > Notifications > toggle off lightning sound alert.
HOW DOES MY PROPERTY, COMMUNITY, OR ORGANIZATION BECOME PART OF THE IN-TELLIGENT COMMUNITY?
It's easy! Send us a message through the contact form in the footer and one of our representatives will be in touch.
AS AN IN-TELLIGENT COMMUNITY MANAGER, WHAT ARE MY RESPONSIBILITIES?
(1) You'll be responsible for getting your tenants, employees, visitors, members, guests, residents or fans to download the app and selecting your In-telligent community as their primary community. This way, your subscribers can start receiving information and alerts directly from you.
(2) Once your community has been set up, you are responsible for pushing out important community related information and alerts through the In-telligent portal. Obviously, these two responsibilities work in symmetry allowing you to create a safer and more informed community.
WHAT KIND OF SUPPORT DO I RECEIVE AS AN IN-TELLIGENT COMMUNITY?
Once your In-telligent community is established, you'll have access to our technical support, marketing, and customer service teams. We don't set you up and then forget about you. Instead, we are committed to ensuring you are happy being part of the In-telligent community now and into the future, providing feedback, support, marketing tools, advice, and more!
IS IN-TELLIGENT A SECURE APP?
We work with Amazon Web Services to ensure that your data and messaging are as secure as possible; no other service is as reliable. We can get a message to anyone, anywhere at a moment's notice. We have a 24/7 service guarantee to ensure that messages you need to receive reach you instantly.
WHY DOES IN-TELLIGENT NEED ACCESS TO MY LOCATION?
In-telligent requests location permission to allow us to target alerts to you when you're in a threatened area. Auto-subscription is a feature of In-telligent that needs your location as well.

With In-telligent on your phone, if you enter an "In-telligent" area by breaking a community's geo-fence, you will be automatically subscribed to that community.
WHY DOES IN-TELLIGENT NEED ACCESS TO MY MICROPHONE?
The app will also ask for microphone permissions which are needed for the VoIP calling between subscribers and Community Managers within certain physical communities on the platform (such as an Apartment Building or Office Building). The microphone is only used when this feature is activated by you.
FLASHLIGHT PERMISSION?
Android phones will require flashlight permissions, which are used to flash the flashlight when a time sensitive, critical or life threatening alert is issued. This feature can be turned off for Apple phones if that is preferred. (Settings > General > Accessibility > LED Flash for Alerts)
WHY DOES IN-TELLIGENT ASK FOR PERSONAL INFORMATION LIKE AGE, GENDER, ZIP CODE?
In-telligent doesn't ever sell your information to anyone. The question around gender, age range, and zip code asked upon creating your user account are optional and are there to help with targeting messages. Many communities on the platform use this information to target messages to people in different demographic categories. ALL messages sent through the platform are monitored by In-telligent and will never be inappropriate. As such, even though the app suggests that it should be only downloaded if you are over 17 (given that it is an open communications platform), it is safe for your teeager to download the app and subscribe to our community.
WILL I BE TRACKED AND MY PRIVACY INVADED?
No, we don't track you or install cookies. That would go against our privacy statement and founding principles. The app is meant to keep you safer and informed. Tracking and selling info would make people feel less safe.
WE ARE CONSTANTLY MAKING TWEAKS TO IN-TELLIGENT TO ENSURE THAT THE APP IS OPERATING AS WELL AS POSSIBLE. IF YOU ARE EXPERIENCING ANY BUGS OR OTHER ISSUES, PLEASE SUBMIT THEM TO US THROUGH THE CONTACT FORM IN THE FOOTER.
DUE TO THE OVERWHELMING POPULARITY OF OUR NEW PERSONAL COMMUNITY FEATURE, YOU MAY EXPERIENCE SPORADIC PERIODS OF SLUGGISHNESS IN THE COMING DAYS. WE ARE WORKING QUICKLY TO FIX THIS ISSUE AND TO OPTIMIZE THINGS ON THE BACK END, ENSURING THAT YOU WILL EXPERIENCE OPTIMAL PERFORMANCE OF THE APP. 
*We are aware of a current issue with the App and Play Stores that's causing certain devices to prompt a popup to update the app even after the most current update has been installed by the user. We apologize for any inconvenience this may be causing. We are working as quickly as possible to solve this issue.