In today's world, people travel more than ever.  In fact, the world's airlines carry a total of three billion people each year, and that number continues to rise every year.  As such, apps that notify passengers of flight changes and delays are common, with nearly every airline having their own version of a flight notification system.  But such alerts only keep you informed until you reach your destination; they don't prepare you for issues you might face once you arrive.

The In-telligent app, powered by In-telligent's patented technology, provides US and UK travelers with real-time mobile travel advisories.  Designed to prepare travelers for any safety threats they might encounter when traveling to another country, In-telligent monitors new advisories released from the US Department of State, as well as the UKs Travel Aware program, and immediately notifies participating travelers who have the In-telligent App on their phones.  Such alerts may include information on terrorist attacks, civil unrest, disease outbreaks, destructive weather, major flight disruptions, and other foreign travel advice that travelers should be equipped with before or during their travels.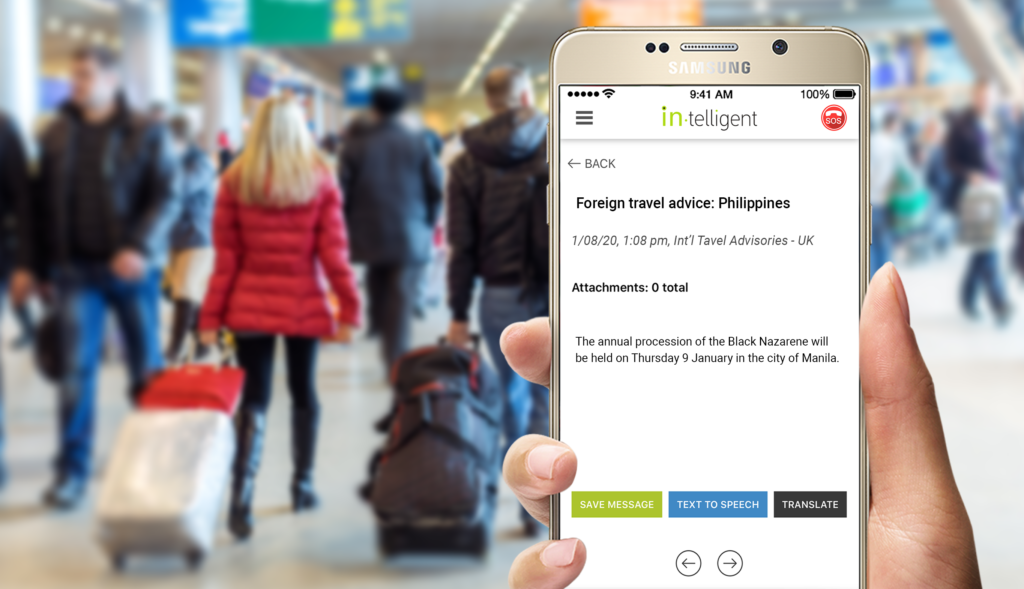 Additionally, In-telligent understands that most travelers will not know local embassy or police phone numbers while visiting foreign countries.  If faced with an emergency while traveling, In-telligent app users can utilize various emergency numbers that are programmed right in to the app to reach help instantly.  With location services on, app users can navigate over to the Contact tab of the app to see embassies located nearby. Once the phone icon is tapped, a call is immediately placed through the app. Embassies are available to help travelers with passport and other urgent issues while away from their home country.  Or, to reach local emergency services, tap the SOS button to place a call for help.
To begin receiving travel advisories, search the keyword "travel" under the Groups section of the In-telligent app.  Tap Connect to begin receiving alerts!