Lightning strikes are an all-too-common occurrence, primarily in the spring and summer months.  Everyone knows the saying "when thunder roars, head indoors," but few of us actually pay attention.
It's estimated that about 240,000 people are injured by lightning strikes globally each year, leading to thousands of deaths.  Taking safety precautions, such as seeking shelter in a sturdy building, is a great way to avoid a lightning injury and keep yourself and loved ones safe, but what if you didn't know lightning was even in the vicinity?  Amazingly, it doesn't need to be raining for you to be at risk of getting struck; in fact, lightning can strike during blue skies!  
In-telligent, the #1 app you for emergency communication around the world, makes lightning detection effortless; keeping you and your loved ones safer.  All you need is to have In-telligent downloaded on your Apple or Android smartphone and be logged into a free In-telligent account. If you are within 3 miles of a ground-reaching strike anywhere in the world, In-telligent will send you an audible alert notifying you of danger. With In-telligent's patented audible notification technology, you have peace of mind knowing that you will be alerted immediately, even if your device is switched to silent or do not disturb.  
Using In-telligent's alerts to stay safe during outdoor activities – sports, boating, swimming, cookouts, concerts, jogging, visits to the playground, etc – is a no brainer.  A few seconds is all it takes to keep your family safe; simply download In-telligent and sign-in. In-telligent does the rest.
Other important use cases where In-telligent's lightning alerts can play a key role in safety that one may not readily consider:
Lightning safety on the golf course:

Players can use the In-telligent app to ensure they're alerted to lightning while out on the course.  Many golf club admins already incorporate In-telligent into their communication strategy to solve communication challenges during storms; replacing expensive lighting detectors and/or providing a redundancy should course detectors fail or prove unable to be heard on certain parts of the course.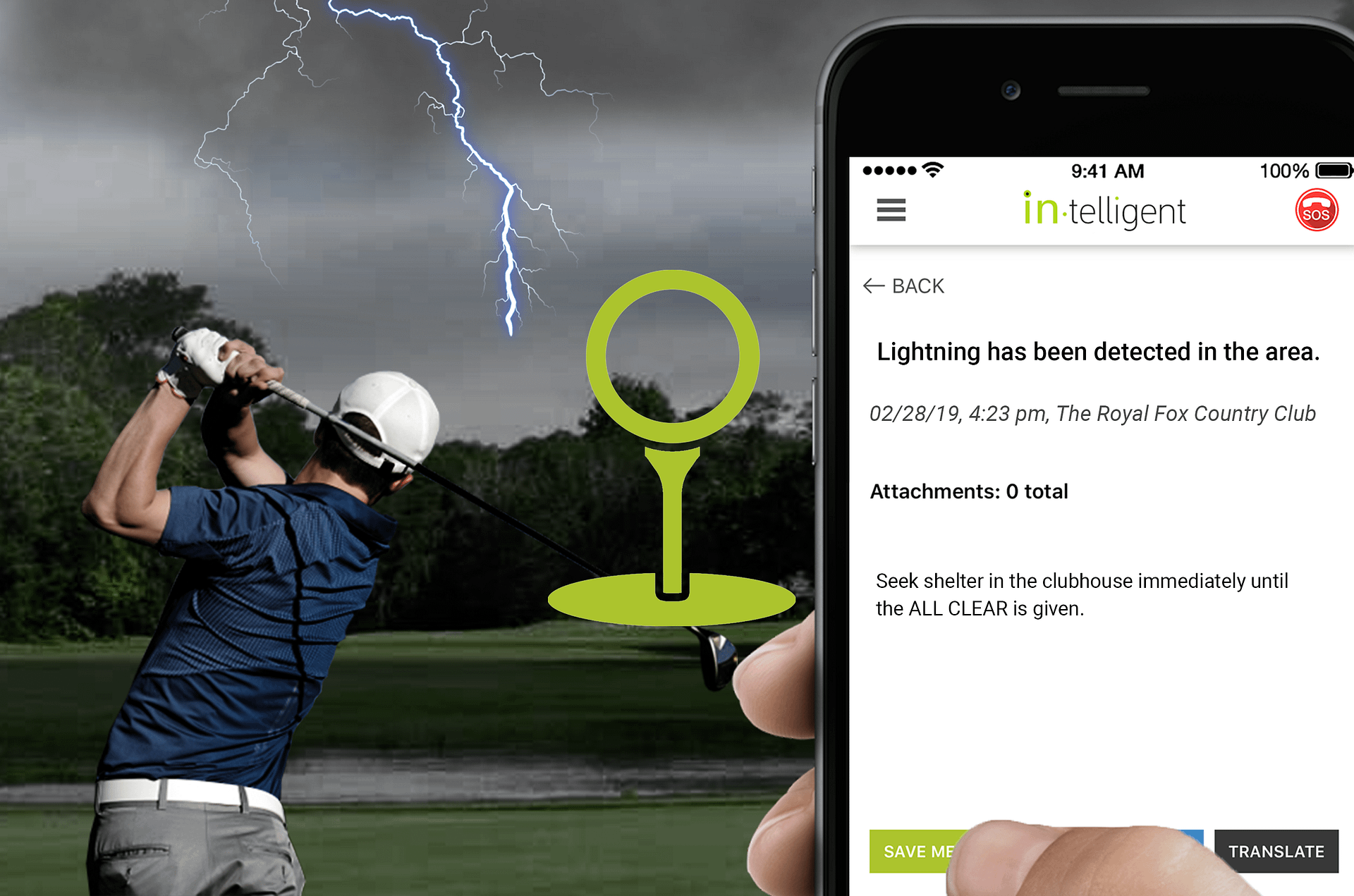 Lightning safety at recycling centers, construction sites, or other outdoor workplaces:
Many such facilities don't have lightning safety precautions in place, or if they do, they often prove ineffective because they can malfunction or may not reach everywhere where employees could be present. In-telligent ensures workers know when to seek shelter, and, when used by facility managers, maximizes their duty of care for employees.
Lightning safety at outdoor venues:
Stadiums, arenas, fields, and other outdoor venues have a priority to ensure guests are safe while visiting their facility.  In-telligent minimizes venue liability and prevents lightning-related injuries with early warnings that allow venue operators to quickly direct guests to safety.  It also gives guests protection should the venue they're visiting not have In-telligent implemented in to its emergency communication system.
If you haven't already, download In-telligent now to get real-time lightning alerts and other lifesaving information from groups you're connected to follow this link: http://onelink.to/cn5ax9
If you know of an organization interested in partnering with In-telligent for lightning alerts or to solve other emergency communication challenges,